Beats Avenue (B.A.) is a music website offering music products & services
Who Are We?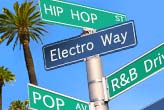 Beats Avenue® was founded by experienced music producers who have work references with several music labels and artists worldwide. On this website, you will find them under the alias: "Booming Brothers".
Being in the music business for many years as musicians and artists, the Booming Brothers know how tough it is to build the road to success. By creating this website, the founders' goal is to provide easy access to quality music at a very affordable price. As they say:
Ultimately, we would like to help any artists from amateurs to professionals, unsigned to indie, to get a big boost in their career.
Indeed, Beats Avenue is the place "where your music comes true!".
On Beats Avenue, you will find a wide range of music genres from Pop to Hip-Hop, including Electro, R&B, Soul, Rock, Acoustic… To listen, please check out our Beat Store music player.
Beats Avenue offers different kind of services according to your needs

Stay informed about our latest news, fresh new beats and special offers

Join our mailing list to keep up to date!
Sign up here to get these gifts. By doing so, you will receive 5 FREE BEATS and a special 10% discount coupon off your next purchase!
By submitting this form, I agree that my information will be used exclusively as part of my request and the ethical and personalized business relationship that may result if I wish.
Beats Avenue is active on social networks, get in touch with us!